PUBLICATIONS
THE LAUNCESTON NATURALIST
The Club's bi-monthly newsletter is available to every member and has information on future Club meetings, field trips and activities as well as outside events of interest to members. There is also a write up of previous meetings and activities attended by the Club as well as members' articles on various aspects of nature.
Current newsletter December 2018/January 2019 (4330 Kb PDF)

For previous newsletters visit our newsletter archive
CLUB CALENDAR
In 2009, members were asked to submit images for inclusion in the Club's first calendar published for 2010. Titled Tasmania's Spectacular Natural History the calendar was very popular, being purchased by members for themselves and as gifts for relatives and friends. In both 2013 and 2014, there were two seperate A5 sized calendars available due to the quantity and quality of images submitted.
Since 2015 the calendar produced has been A4 sized. They are professionally printed on quality paper and spiral bound by John Temple Gallery in Westbury. The 2018 calendar is available, please contact the Club Treasurer on 6344 2277 if you are unable to attend a club activity to make your purchase. They cost $13.00 each, postage is extra if you would like the calendar mailed.
A GUIDE TO FLOWERS & PLANTS OF TASMANIA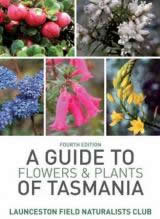 This phenomenally successful guide has been in print since 1981. Royalties from the Guide have allowed the Club to establish the John Skemp Field Centre on the Club's property at Myrtle Bank.
Now in its fourth edition, this beautifully illustrated guide has been extensively revised, with updated text and many new pictures. It is an invaluable companion and reference for bushwalkers, tourists and all those interested in the Tasmanian countryside.
For ease of identification each of the species described is accompanied by one or more photographs. The text includes all information necessary to help identify the plants: size, description, flowering time, appearance of the flowers and the type of habitat where you may expect to find them.
The book also includes an introduction to the vegetation of Tasmania, illustrations of leaf shapes and a glossary. A review of the guide by Mark Wapstra appeared in the Tasmanian Field Naturalists journal The Tasmanian Naturalist in 2008.
It is available from all leading bookstores or on application from the Club. In July 2011 the book was reprinted with a new cover pictured above.
The late Mary Cameron an eminent botanist and club member played a leading role in the production of this guide and edited the first three editions.

General and Technical Feedback | Last update 3 February 2019
Copyright © Launceston Field Naturalists Club | Website design by Karen Manning